We want you to be comfortable in your choice of entertainment.
Here's what we'll do for you:

Provide over 20 years experience of DJ Entertainment planning

Provide a written agreement (Contract)

Have backup equipment and DJ's available for your event

Provide professional quality equipment

Provide two million dollars of liability insurance

Stick to your music list

Wear appropriate attire (our normal attire is formal)

Keep the volume at an appropriate level at all times

Provide high quality entertainment and FUN!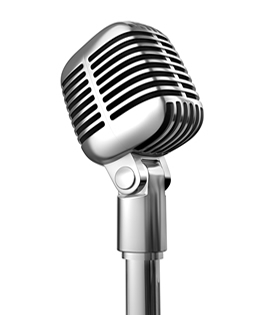 >Read our Testimonials - look through our Photo Gallery - you'll see why we're one of the most popular DJ's at the Jersey Shore!
Follow us Online at:
Puttin' On The Hits! Choosing a DJ company for your next event can be a very difficult decision. Your satisfaction is our number one goal! We are available for Weddings, Graduations, Summer bbq's, Holiday Parties and more! We are happy to perform at charity events and legitimate fundraiser benefits. Puttin' On The Hits! of New Jersey is the best choice. With many years of experience, our DJ's and Emcee's know and have what it takes to bring out the best in every event.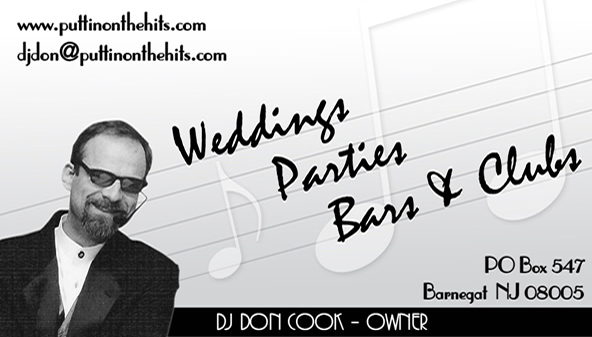 Our professional and reliable staff have full knowledge of what works and what does not work on every type of event. Through music selection and personal interaction, our DJ's and Emcee's motivate and entertain your guests, leaving them with lasting memories for years to come. Not all DJ's are alike. That is why at Puttin' On The Hits!, we have a variety of DJ's to fit your style and needs.
---
Why should you hire Puttin' On The Hits! for your next event?
Simply put, because we are the best. What is the secret to our success? We have professional, reliable,
and creative DJ's and Emcee's who will cater to your style and wishes. The difference between our competition and us, we listen. We take in all of your wishes and combine them with our experience and you get the most fun possible in any one night. Our experienced staff will help plan your event from the beginning to the end. If it is a Wedding Reception you are planning, we will make all introductions and announcements as well as smoothly transitioning through all of the formalities.
---
HOW DO WE DO IT?
Easy - we listen to you, our clients! We have the ability, equipment and most importantly, professional experience, all to provide you with exactly what you want to make your party a resounding success. No request is too unusual! The key to a successful party is simple - great music and entertainment! Puttin' On The Hits! will give you precisely that! Whether you want a sophisticated and elegant evening of music or a wild party, Puttin' On The Hits! can fit the bill perfectly.
---
WHERE ARE WE?
Puttin' On The Hits! is located in Barnegat, NJ, 35 miles north of Atlantic City, 75 miles south of New York City and 60 miles east of Philadelphia. We are minutes away from Long Beach Island and Seaside Heights, two major summer vacation resort areas located on the Atlantic Ocean.